The Market For Computing Careers (2012)
There are lots of myths about computing careers. One of the most ridiculous is the myth that all the computing jobs are going overseas. According to this recent Information Week article, the majority of the work that U.S. companies are "outsourcing" is actually going to companies here in the U.S., as can be seen in this chart from that article:
The problem is that many mainstream media writers use the following terms interchangeably:
outsourcing, that is, sending work to a different company.
offshoring, that is, sending work to a different country.
Since many companies are outsourcing their software development, this creates the false impression that those companies are sending that work overseas. As the preceding chart indicates, the majority of the outsourced work is staying here in the U.S., and the indications are that the number of computing jobs will continue to grow faster than most other sectors.
To see why, consider that the U.S. Bureau of Labor Statistics (US-BLS) predicts that computing will be one of the fastest-growing U.S. job markets in science, technology, engineering, and mathematics (STEM) for the foreseeable future, as indicated on the following chart: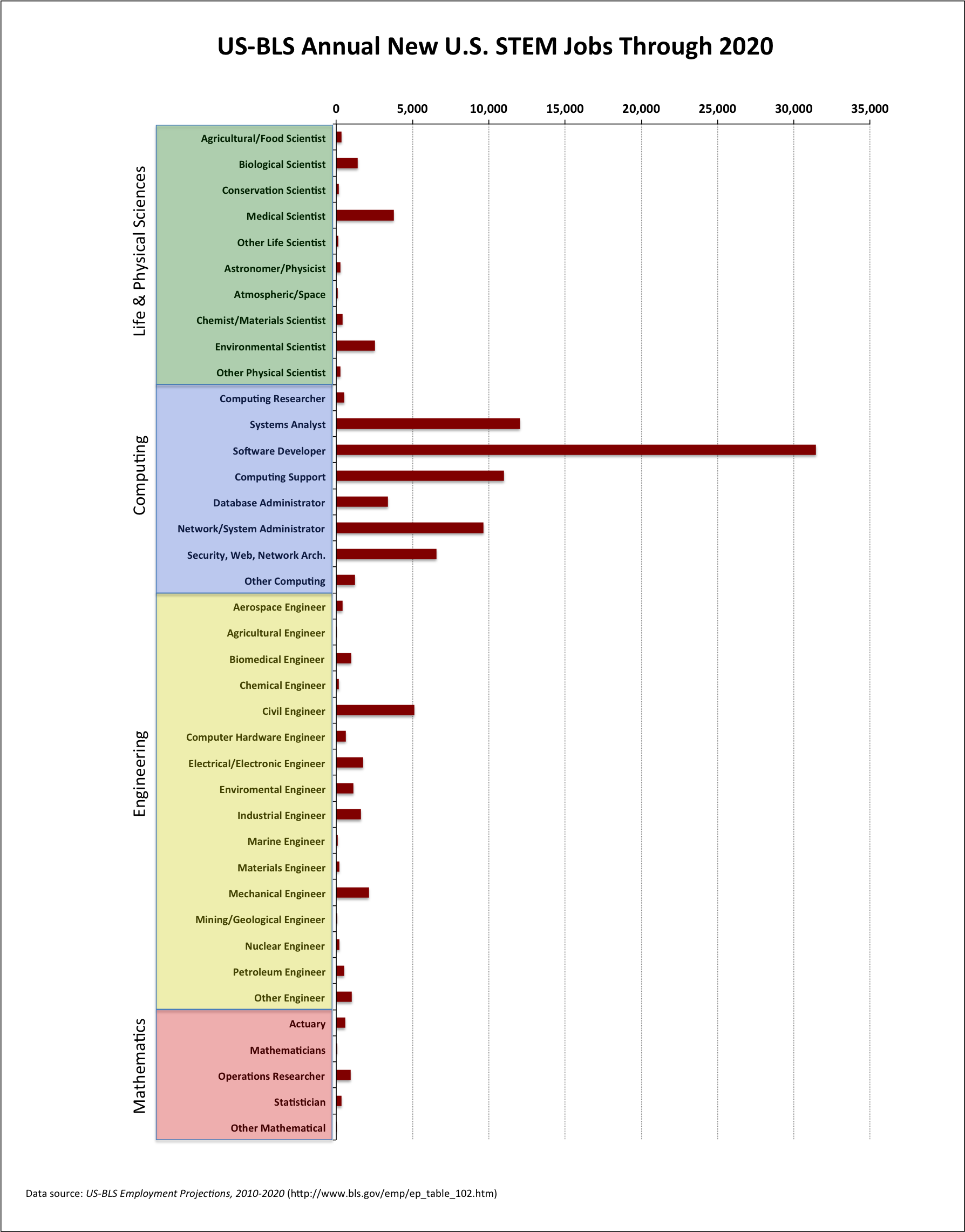 (Click on the chart for a larger image.)
As you can see, the US government is predicting that the five fastest-growing STEM jobs will all be in computing; only one other area (civil engineering) is expected to generate more than 5000 new jobs per year. By contrast, the US-BLS predicts there will be over 31,000 software engineering jobs, over 12,000 systems analysts jobs, 11,000 computing support jobs, and over 9,000 network/systems administration jobs, and over 6,000 computer security, web developer, or network architect jobs, each year.
If we aggregate the US-BLS numbers as percentages by STEM area, we get the following chart: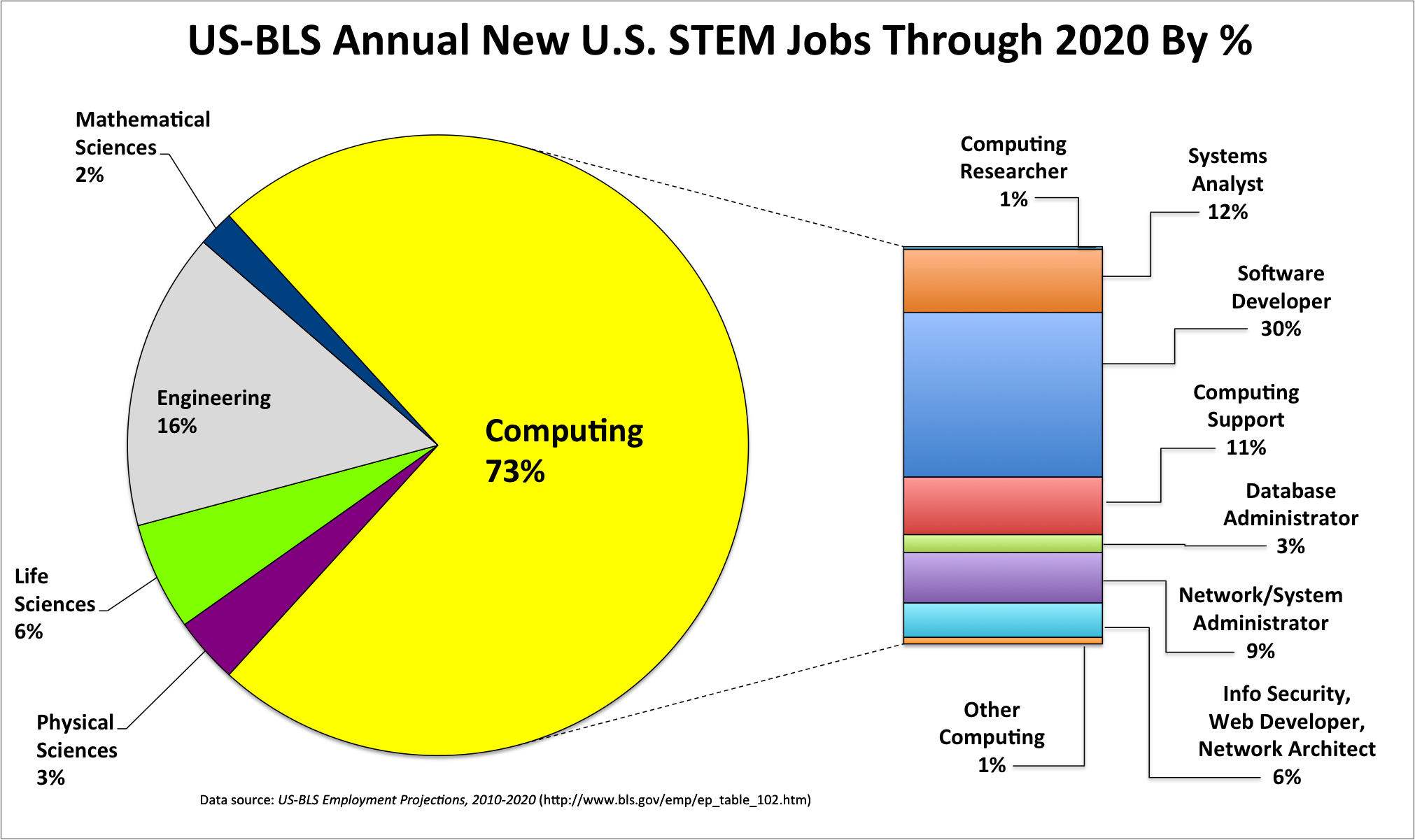 (Click on the chart for a larger image.)
For the foreseeable future, nearly 3 out of 4 new science, technology, engineering, or mathematics jobs in the U.S. are going to be in computing! By contrast, just 16% will be traditional engineering jobs, and even fewer will be in the sciences or mathematics.
What kind of "computing" jobs are these? The bar-chart on the right breaks the "computing" jobs down in the different career categories, and shows the variety of careers that are available for students who study computing. As can be seen, the US-BLS is predicting that 30% (314,600) of the new STEM jobs will be in software development (aka software engineering) alone as compared to 16% (178,400 jobs) in the combined branches of traditional engineering!
Why so many software development/engineering jobs? In a nutshell, the reason is the mobile computing market. Every organization wants apps for the iPhone and iPad, which run Apple's iOS operating system, and for all the phones and tablets running the Android operating system. These organizations also want a modern web presence, which requires web development and database expertise. Together, these are creating a huge demand for people to build and maintain those apps, websites, and databases.
Note that basic computer literacy (i.e., knowing Microsoft Word, Excel, or Powerpoint) or CAD-design will not qualify you for one of these jobs. These jobs require advanced computing skills in modern software development that you will only gain by studying computer science, information systems, and/or software engineering.
With all of these jobs out there, you'd expect students to be flocking to computing. Unfortunately, the opposite has been true until recently, as the following chart shows: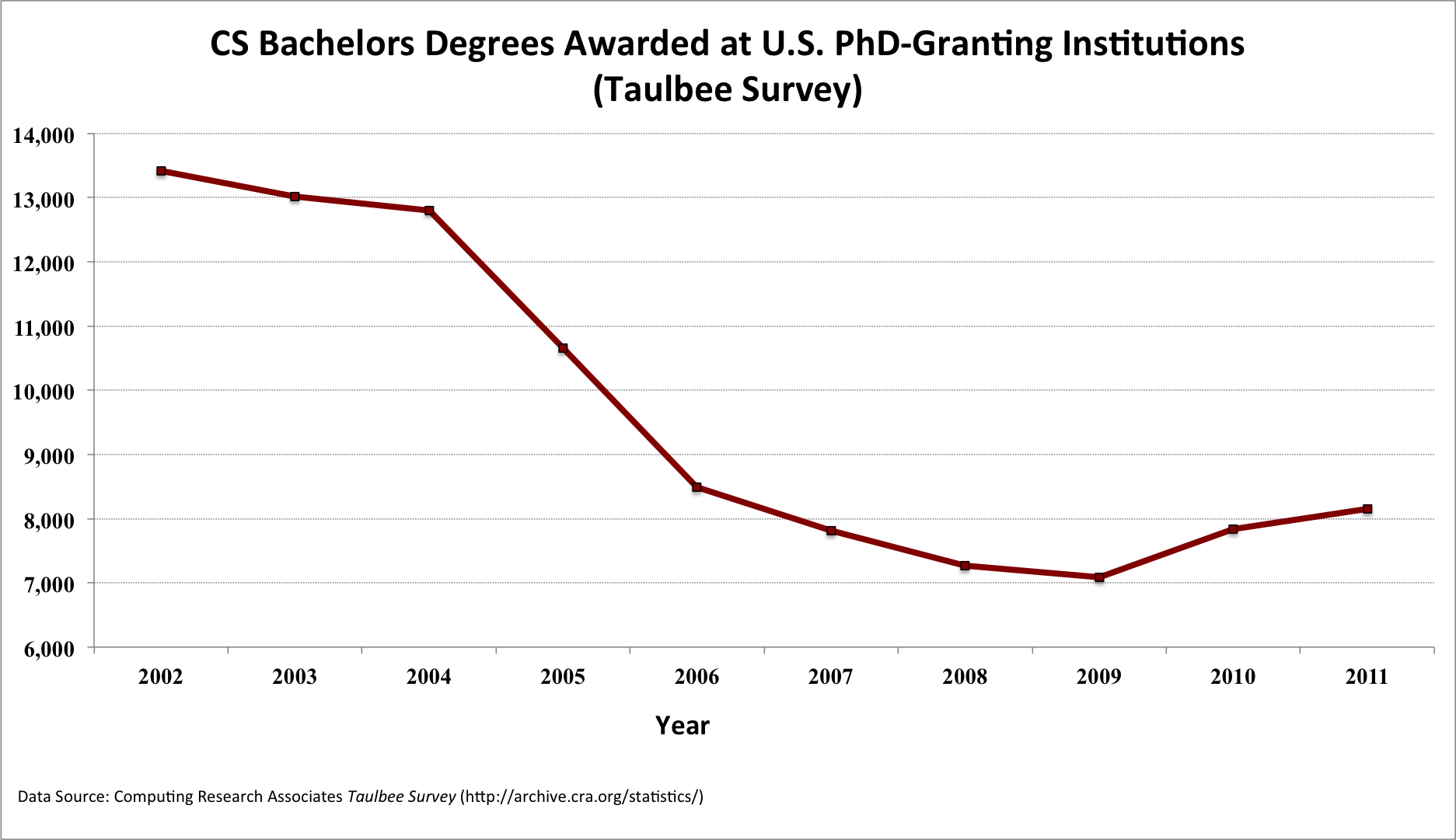 (Click on the chart for a larger image.)

So the demand for computing-related professionals is exploding, but until recently, fewer students have been choosing to study the subjects needed to pursue these careers. As a result of this supply-demand imbalance, salaries for these professionals are climbing. To see current ranges, check out these salaries for software developers, database administrators, web developers, and systems analysts, which U.S. News & World Report ranked as its #1, #2, #3, and #4 Best Science and Technology jobs for 2012.

If that's not enough to convince you, the following chart compares the total projected jobs in the various STEM categories against the number of bachelors degrees currently being awarded in those categories: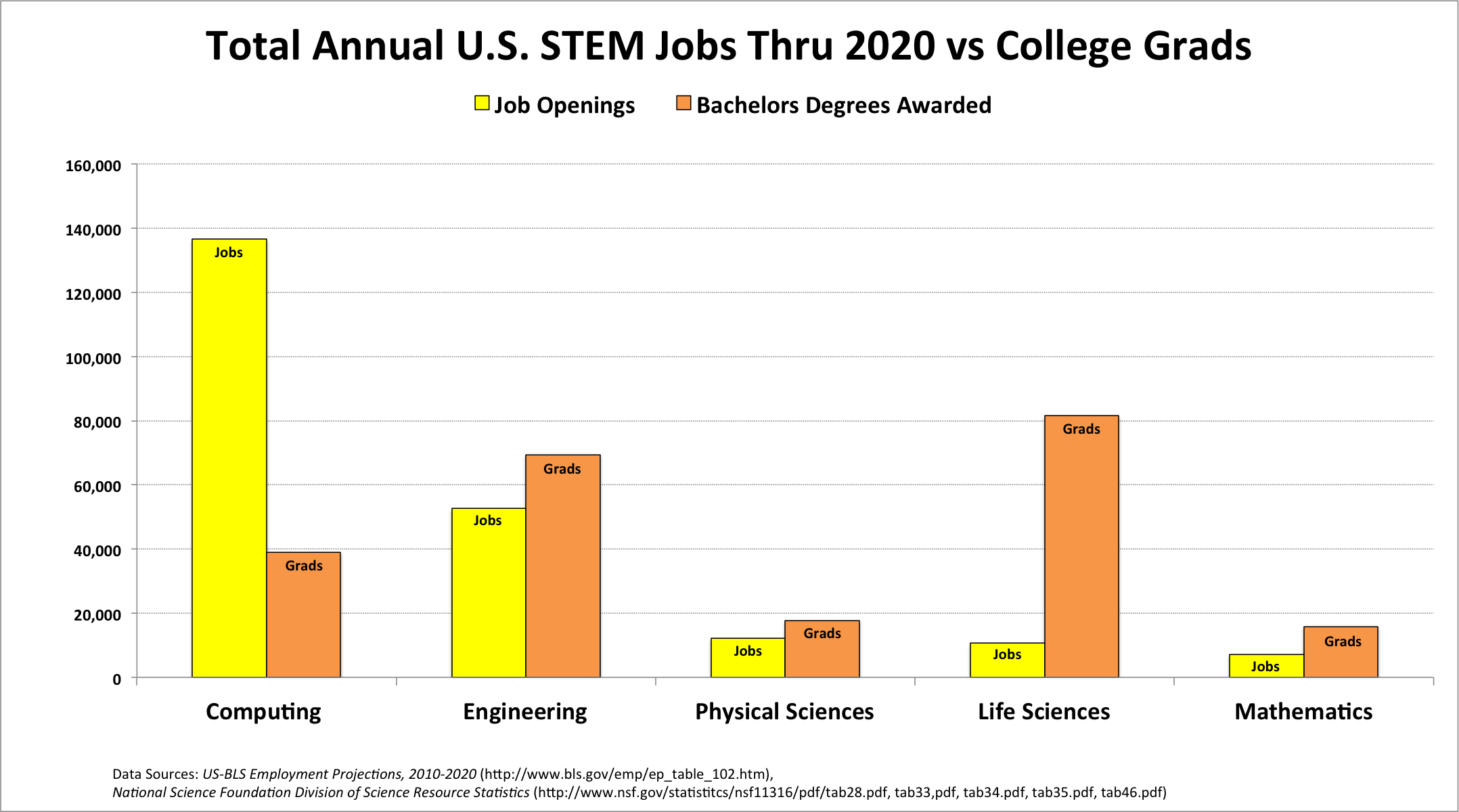 (Click on the chart for a larger image.)

The yellow bars indicate the total number of job openings projected in each area per year, and the orange bars indicate the current number of graduates in those areas. In engineering, the sciences, and mathematics, there are more graduates than there are jobs. If graduation levels remain the same, this means the graduates from these programs will be competing for the available jobs, which tends to keep salaries flat.

But in computing, there is a huge undersupply of graduates. As in any situation where demand exceeds supply, companies are competing for the (relatively few) available graduates that have advanced computing skills, driving salaries up. This is creating a "perfect storm" for people with degrees in computing-related fields, as they have a wealth of career options from which to choose.

It is worth mentioning that these numbers are fairly consistent with those from from two years ago.
---
If you are still skeptical, our final chart shows the number of requests Calvin's CS Department has received each month from January 2003 though March 2012 from companies seeking students with advanced computing skills:

(Click on the chart for a larger image.)
These include both full-time positions and (mostly paid) student internships. The average wage for the paid internships is about $15/hr.
As can be seen from the ascending trend line, the average number of requests received by our department has grown to the point that, as of March 2012, it is approaching 4 requests per week, with the majority of these requests being for software developers or web developers. Moreover, this growth in demand has continued through the "Great Recession" of 2009 and 2010.
Why? Because this is the 21st century, software controls much of our day-to-day lives, and people are needed to create and maintain that software. To prepare students for this century, Calvin's Department of Computer Science offers:
If God has gifted you with creative, logical, and/or quantitative abilities, He may be calling you to a career in computing. We invite you to join us — we will do everything we can to help you explore that calling.