Review
In the last session, we finished covering basic administration skills for your computer. Tonight, we'll discuss additional hardware/software that you could buy and install yourself, and then we'll send you home with your machines.
Additional Hardware
Your machines are now basically configured for home use, but they don't have all the hardware components that one might want to have, such as:
Modem - In this classroom, you've connected to the Internet using a broadband local network, but unless you've subscribed to DSL, you won't have this at home. Because getting on-line is pretty important, you may want to install a dial-up modem, which is a slower, but cheaper way to get connected. You can usually get a modem for from $15-30.
Printer - A printer is useful for making hard copies. You may be able to get away without one of these if you can deliver your documents electronically, or if you can take them to some other place to print them. Otherwise, you can buy a reasonable ink-jet printer for anywhere from $20-100.
Speakers - If you would like to play music on your computer or hear the sounds, you may have to plug in some powered speakers or headphones. You can get suitable speakers for from $10-40.
You can connect other components as shown in the following image: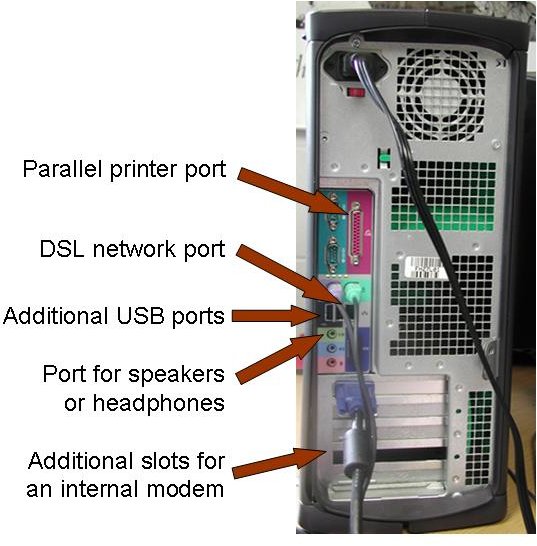 Additional components will usually have software programs called drivers that must also be installed. Because this is different for each component, you'll have to follow the instructions provided with the component.
Installing a Modem
If there is interest, you can install an internal modem in a manner similar to that shown in the following picture: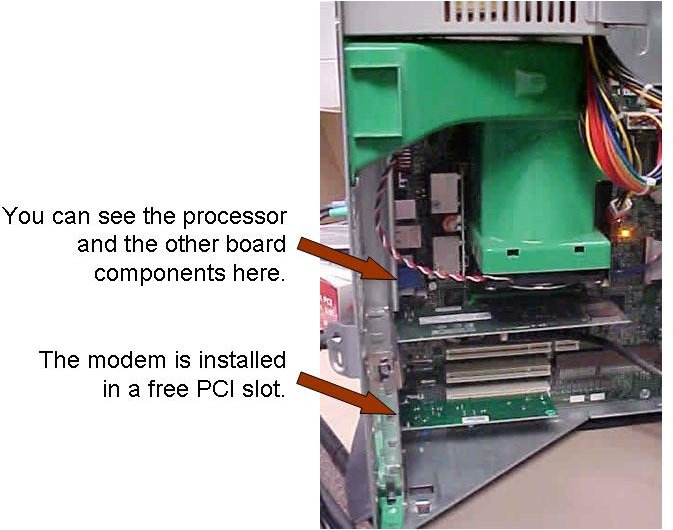 When this hardware is installed, you'll also have to do the following:
Install software to drive the modem (called a driver) by following the instructions given with the modem.
Configure your dialup settings by following the instructions given to you by your dial-up Internet Service Provider (ISP) (In Windows, you do this by going to "Control Panel", "Phone and Modem Options", Choosing the "Modems" tab, and entering the phone number and ID provided by your ISP).
Additional Software
Your machines have an operating system (Microsoft Windows), basic Internet administration software (e.g., AVG, Spybot), and Open Office. If there is interest, we can help you install Microsoft Office or any other software package you're interested in.
Break
We'll take a break here.
Going Home
Now it's time to pack your machine up, take it on home and try to set it up. The hardware you should be taking home includes the following:
Tower
Monitor
Keyboard
Mouse and mouse pad
Power strip and power cables for the tower and monitor
The Project Connect Software CDs
Ask questions if you have any problems. If you have any problems hooking things up when you get home, you can double-check the class notes or call us here and we'll try to help.
Future Support
Computers are complicated systems and you will probably run into problems as you use them. To get help, try consulting the following places:
Your notes from this class - We've tried to cover many of the key issues you will have to deal with in the class, so re-read that portion of the notes first.
Help Documentation - You can usually find help documentation for problems, either in the electronic help system on your computer or on the Internet. Try searching for words that describe the problem you are having.
Your ISP - If you are having Internet connection problems, you should be able to get support from your Internet Service Provider (ISP). Call them or read their documentation.
Project Connect - If you can't find what you need in the above places, you can send us a message telling us who you are and what's up. Do this in either of the following ways:

Leave a message for "Project Connect" with the Department of Computer Science at Calvin College, 526-7163
Send an email to connect -AT- calvin -DOT- edu

We won't always be able to support requests quickly, but we'll try.
It has been good to meet you in this class and we wish you blessings as you pursue your goals using your new computer equipment and skills.