Review
In the last session, we worked with word processing and files. In this session, we'll move on to work with the Internet, but it will revisit those two systems frequently so feel free to ask questions about them at any time.
The Internet
The Internet is a large computer communication network that spans hundreds of countries and includes millions of computers. It is a heterogeneous network of networks, all communicating via the TCP/IP communication protocol, that provides a number of valuable services, including:
WWW - The World-Wide-Web (WWW or just the web) supports the sharing of hypermedia (i.e., text, video, audio documents).
Email - Electronic mail (email) supports the semi-private exchange of messages.
In the next two sessions, we'll work with email and then the web but before we do that we need to get your computers ready for the internet. First, we need to attach your computers to the Internet. For now, we'll do this by connecting your Network Interface Card (NIC) to the Local Area Network (LAN) in the lab. We'll talk about other ways to connect to the Internet in a later session.
Connecting to the Internet
The WWW, or web, is an Internet service, so to use it you must connect your machine to the Internet. There are a number of ways to do this, including:
Public Access - The cheapest way to get on the internet is to go to the public library or some other computer lab. It's usually free, but there are limited machines and you can't do it from home.
Dialup - This is the cheapest home option, but it's also the slowest and it ties up your phone line. For the cost of a modem (around $15-20) and dialup service (around $10/month or less, with some special deals), you can get decent 56K access. Possible service providers include:
DSL - This is currently the most popular high-speed option if you have a working phone line. For the cost of a DSL modem ($100, frequently free with the service) and DSL service ($30-50/month, with some special deals for the first year), you get broadband access (300K-3M download, 128-384K upload). Frequently you can bundle your local phone service with DSL, and DSL doesn't tie up your phone line. Possible service providers include:
Cable - This is another broadband option. It works over a cable TV line, and is thus cheaper if you already have cable television ($30-100/month). You need a cable modem and cable service. Possible service providers include:
Wireless - Eventually, wireless technology will become a major player, but at this point the coverage is not that great.
We can frequently find good deals on modems if you are interested.
Websites
Once you get connected to the internet, the web is accessible through a standard web-browser (e.g., Microsoft Internet Explorer). You just need to tell the browser the "Internet address" (or URL) of the page you want to download (see the image to the right).
There are any number of useful websites, covering a vast range of information resources. Here are some examples:
There really is not limit to the number or variety of websites on the web.
Searching the Web
The Web is so large and is growing so quickly that it's increasing difficult to keep track of it all. For this reason, search engines have become a necessity. A search engine allows you to enter search terms (e.g., "Calvin College") and will return a list of websites that may be relevant to those terms. The most popular search engine these days is Google (http://www.google.com/):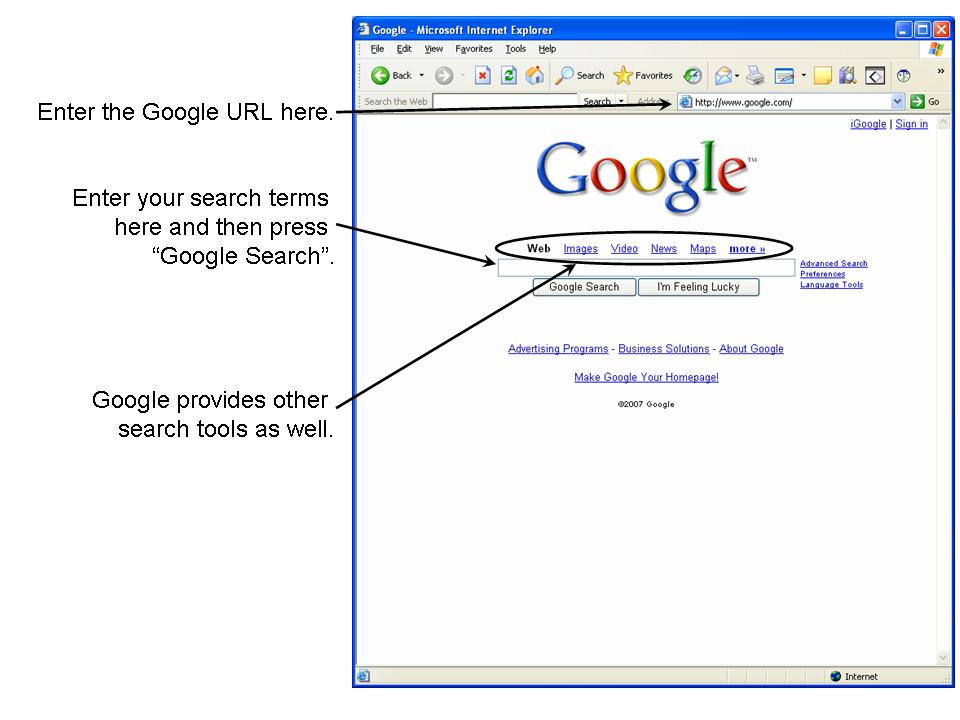 To get used to using Google, do the following things:
Visit the Google help page (http://www.google.com/help/basics.html) to learn the basics of searching. Do this even if you think you know Google well, I learned some things when I looked through this help, and I use Google hundreds of times per day.
Use Google to find a website of interest to you. I would be very surprised if you have any interest that is not the subject of at least one website. And if you can't find a site for your subject, perhaps you should be the first to make one.
Some good educational sites:
Some (relatively safe) game sites:
You can also search Google for "free games" or "educational games".
Protecting Yourself on the Web
As in real life, not everything on the web is good, and some sites can be dangerous. Here are some things to watch out for, and some things you can do to protect yourselves and your families on-line:
Hoax Sites - Some sites present inaccurate or even dangerous information. Consider the following two sites: http://www.isoc.org/internet/conduct/truth.shtml).
Malicious Sites - Some sites will try to get you to send in money or give out personal information over the internet. Be wary of this. You can usually trust a site like Ebay, so long as the URL is www.ebay.com, but don't trust just any site. Never give private information out (e.g., credit card numbers, phone numbers, addresses), unless you trust the site and they are using https, a secure protocol (e.g., https://signin.ebay.com/).
Addictive Sites - Some web services can be addictive (e.g., chat, gaming, pornography, gambling). Stay away from those sites, and see that your children do as well. Leave your computer in a public place in your house, and control internet access (e.g., using Google's "safe search" facility or a web filter like Naomi ( http://www.radiance.m6.net/) or K9 (http://www.k9webprotection.com/).
On-Line Bullies & Predators - Remember that the web is public. Very little that you and kids post there is truly private. Thus, you should remind your kids (and yourself) to limit the amount of personal information posted on Weblogs, chat rooms or social networking sites. You never really know who you are talking to. If necessary, limit your time on such sites and review the material posted there.
As Cerf's essay says, your best protection on the Web is your own good judgment. In addition, McAffee has a useful site adviser system (see http://www.siteadvisor.com/download/ff.html).
Break
We'll take a break here. If there is interest, can practice web searching by looking for used cars or jobs on-line.
Electronic Mail
Electronic mail (Email ) is a service that allows you create, send and reply to messages, world-wide, in an inexpensive and convenient way. To use email, you need to have access to the Internet (as discussed in the last session) and an email service account. There are a number of companies that offer free email service, including:
Set up an account for yourself now by going to one of the given companies and following their instructions. We'd suggest using Gmail because it provides a good email client. Here are some things to note:
You will have to find a unique email ID. The system will help you find one that no one else uses. Pick one that you and your friends can remember.
You will have to set a password. Choose one that you can remember and that is complicated enough that other people (or programs) won't be able to guess. For example, avoid obvious passwords like "joshua", your first name, or other dictionary words. And note that capitalized letters (e.g. Blob ) are different from lower-case letters (e.g., blob ).
When you are finished setting up your account, find and read the "Help" documentation at your email company site. This documentation will tell you how to read your email, to send messages, to reply to messages, and to deal with attachments. Here are some pointers to get you started: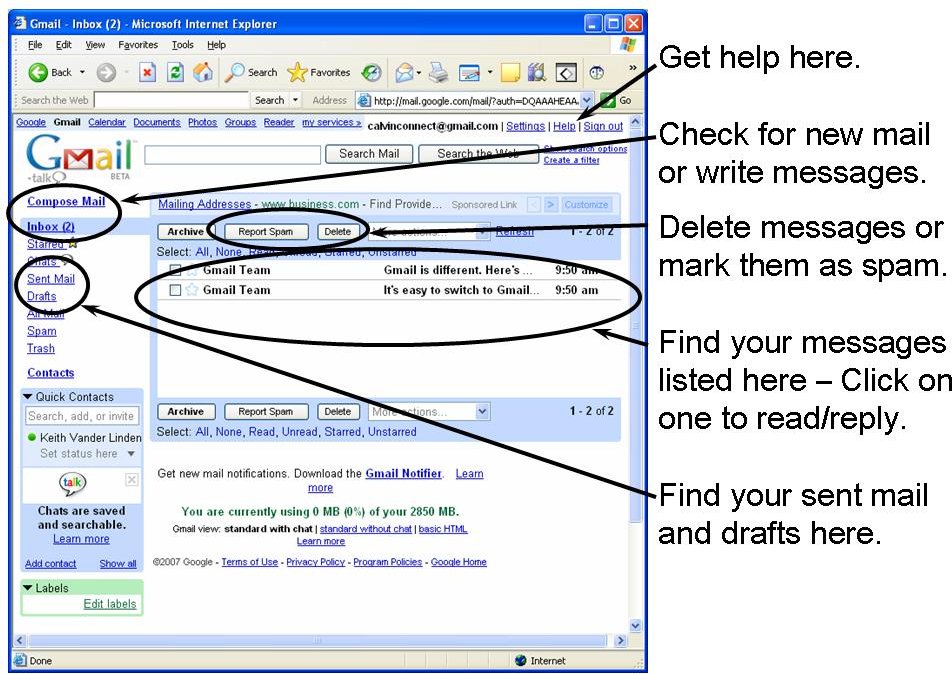 Protecting Yourself on Email
As with all things on the Internet, Email is a very useful tool, but carries with it dangers. Here are some things to look out for and what you can do about them:
Spam - Spam is unsolicited, bulk email. To protect against this, use a spam filter (provided by most email systems) and don't reply to any unwanted email or click on the links they provide. I also keep a separate email account for on-line shopping and other things, which redirects much of my spam.
Hoaxes - You will frequently receive messages from people you don't know with stories and pleas for various things. In general, don't believe everything you read. You can check out a range of hoaxes at Snopes (http://www.snopes.com/); for example, search for "nigerian scam".
Phishing - You may receive messages telling you that you need to "verify" or "re-enter" your personal information (e.g., ID numbers or card numbers). Don't reply to these phishing scams or click on the links they provide.
Flaming - Email is good for short notes, sending documents to friends and for administration. It is not the best means of communication for emotional or private correspondence. Because you can't actually see the other person, email exchanges on emotional subjects can quickly descend into flame wars.
You can find further information on all of these topics at Wikipedia (http://www.wikipedia.org/). Webfoot has a guide to writing effective email (http://webfoot.com/advice/email.top.html).
Here are some examples of scam emails I have recently received. Don't respond to emails like this, just delete them.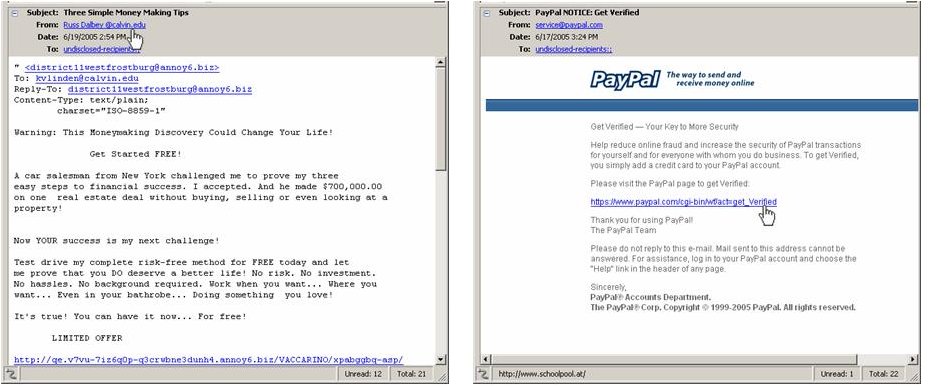 Further Practice
You can continue to practice sending/receiving emails if you'd like to do so.