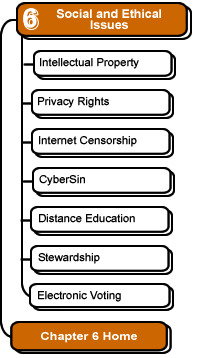 Chapter 6: Social and Ethical Issues

The concepts and ideas with which you should be familiar are included in the chapter 6 checklist. Print out the checklist to use as a study/notes guide while working through the chapter.

[T]he values that systems and devices embody are not simply a function of their objective shapes. We must also study the complex interplay between the system or device, those how built it, what they had in mind, its conditions of use, and the natural, cultural, social, and political context in which it is embedded—for all these factors may feature in an account of the values embodied in it.

Helen Nissenbaum, "How Computer Systems Embody Values," Computer 34, no. 3 (March 2001): 120.

In this chapter, we examine a number of ethical issues related to information technology.
Intellectual Property
Napster, MP3 music, electronic books, copyright violations, software piracy
Privacy
personal data collection, cookies, anonymous surfing, employee monitoring
Censorship
Internet filters, examine Calvin's policy
CyberSin
Vices on the net
Distance Education
Do the benefits outweigh the costs?
Stewardship
When to buy a new, faster computer
Online Voting
What are the opportunities and threats that result from incorporating information technology with voting and other election tasks?



These pages were written by Steven H. VanderLeest and Jeffrey Nyhoff and edited by Nancy Zylstra
©2005 Calvin University (formerly Calvin College), All Rights Reserved
If you encounter technical errors, contact computing@calvin.edu.