Academics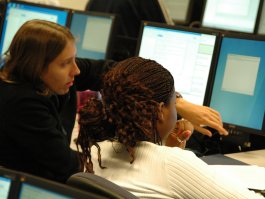 Because our world relies increasingly on computer and information technology, we take it as our mission to prepare Christians to be agents of renewal in the areas of computing and information systems. To achieve this mission, we offer professional and spiritual training through a dynamic mixture of technical education, directed applications, mentoring and Christian fellowship.
Programs
We offer two different degrees in computer science:
We also offer programs that apply computing in the context of other fields:
Other Links
The following links provide detailed information about the content and scheduling of our courses:
Program Objectives and Assessment
We demonstrate that graduates of the Calvin College programs in computing have:
Knowledge
A broad theoretical framework in which to understand the field of computing
A deep understanding of current computing technologies
A broad training in the liberal arts
Values
A sensitivity to social and ethical issues surrounding technology
An understanding of how to use technology related abilities to serve others
An understanding of how Reformed Christianity affects all of a person's life, including vocation
Skills
The ability to use up‑to‑date hardware and software platforms and tools
The ability to apply technological skills in an employment setting, or to conduct a research project
The ability to communicate effectively through speaking and writing
The ability to teach oneself, so as to support and encourage life‑long learning
The ability to think carefully about responsible decision‑making with respect to technology and to articulate those thoughts, as informed by a Reformed Christian world‑view
A detailed specification of the program learning objectives and how they are assessed can be found at the department assessment plan (login required).